Updated Status for Unmapped Places
by
Pascal Neis - Published: November 6th, 2011
The last unmapped places analysis for OpenStreetMap that I conducted is nearly eight months ago. So I figured it was about time to create a new one. You can read in the last blog post how my algorithm exactly works.
However, at the moment (Nov. 4th. 2011) we have (according to the Geofabrik extract) about 597 000 entries in OSM for places that are located within "Europe". This means we have an overall increase of about 90 000 places within the past eight months. We can separate them into several types with different values:
City: 1093 (as of March 11th, 2011 it was 1055 ; +3.6%)
Town: 16213 (as of March 11th, 2011 it was 16106 ; +0.7%)
Suburb: 29642 (as of March 11th, 2011 it was 24913 ; +19.0%)
Village: 301638 (as of March 11th, 2011 it was 278691 ; +8.2%)
Hamlet: 238717 (as of March 11th, 2011 it was 184326 ; 29.5%)
Isolated dwelling: 9064 (new in my stats)
The results showed that of the total 301638 village entries for Europe in the database, about 154445 (51%) (in March 2011 it was 55%) have not been detected or mapped yet. Further it is possible that the places are tagged incorrectly (e.g. villages vs. hamlet). Anyway, the following figures show the distribution of the values for each country (in different scales).
It is nice to see, that Austria (-688), Czech Republic (-633), France (-1978), Georgia (-721), Germany (-1192), Italy (-926), Poland (-2364), Spain (-1472) and the United Kingdom (-829) were able to reduce their "unmapped places" in a quite solid way. As usual you can find my results as a GPX-overlay here: http://resultmaps.neis-one.org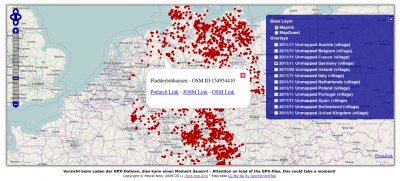 (Remarks for http://resultmaps.neis-one.org: Not each and every country is available as an overlay. Some countries such as France or Poland showed longer browser loading times to display the GPX-overlays!)
UPDATE: Download the complete GPX-files of this analysis here.
thx @ maɪˈæmɪ Dennis