OSM Routing View Worldwide 2011-11
by
Pascal Neis - Published: November 13th, 2011
Really great news for all our non-European OpenStreetMap.org Mappers: Since last month, the OSM Routing View is available for the whole world. You can read more in Frederik's blog post. Yesterday he sent me the latest results of the view and I did some analysis with it. To all new readers: you can find more information about the OSM Inspector (OSMI) here. The Routing View within the OSMI "shows problems in the data, related to routing and navigation" (direct link).
However, here are the new *worldwide* stats for November 2011: we have a total of about 1,3 Mio errors. We can divide them into the following groups:
Unconnected 1 meter: 248000
Unconnected 2 meter: 62000
Unconnected 5 meter: 170000
Duplicate (number of duplicate segments): 833000
The following diagram shows the amount of errors per continent: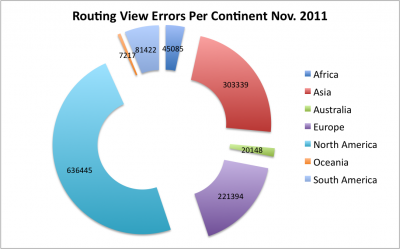 In the following charts you can see the amount of errors separated by country and the amount of errors in detail per country for "Europe":
*NEW*: All other non-European countries with more then 5000 errors are listed in the following chart:
The "big three" countries with the highest amount of errors are in the last chart:

As you can see it in the charts, especially the United States need a lot of work. Furthermore it seems that in Ethiopia something went wrong. Was there any data-import or something similar? Frederik does not have a sponsor for running this routing view world-wide on a daily basis right now, so please contact him if you would support us! The last Routing View blog post is online here.
thx @ *Fab*