Updated Error Summary for Europe
by
Pascal Neis - Published: February 21st, 2011
This month I tried something new. But first we will start with the usual monthly stats of the OSM Inspector Routing for Europe, this time for the middle of February 2011. Overall the following amount of errors appears for "Europe": Unconnected Roads: ca. 107000 and Duplicate Ways (number of duplicate segments): ca. 109000 (in the OSM Wiki you can find more information about the error-types). This means that altogether there are 2600 unconnected streets and 16900 duplicate way segment errors have been fixed. In total we have an increment of 1111000 new OSM way segments for routing during the past 4 weeks in Europe (01/20/2011: 30600000, 02/20/2011: 31710000).
The following image shows the amount of errors divided by country for today's Europe OpenStreetMap dataset: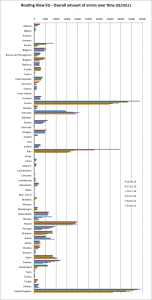 In the past month several other countries were able to reduce the amount of errors, such as in: France (-1600), Italy (-1600), Poland (-1900), Sweden (-2300) and United Kingdom (-8000!!!). So congratulation to the UK, this is your month 🙂
Now let's take a look at the new diagram: The following image shows the amount of errors per 100 km OpenStreetMap streetnetwork data for each country.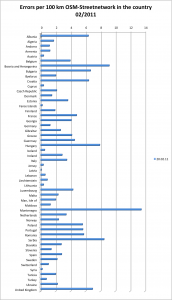 Do you have any other ideas for additional diagrams? I think dividing the amount of errors for each country by the number of OSM ways or segments could be an interesting approach, what do you think? The last image shows the amount of errors divided by country: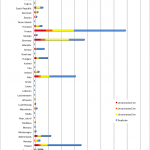 thx @ Dennis