Welcome to an additional family member – OSMstats
by
Pascal Neis - Published: September 7th, 2014
Maybe some of you are already familiar with "OSMstats", a website that provides numerous statistics about the OpenStreetMap (OSM) project. The site was created and is maintained by the two guys at altogetherlost.com. However, OSMstats has now been moved to the ResultMaps domain at osmstats.neis-one.org. I added several new features too. First of all, you can now select a specific date for your stats. Secondly, the main menu panel has been extended with a new entry for statistical information about OSM changesets.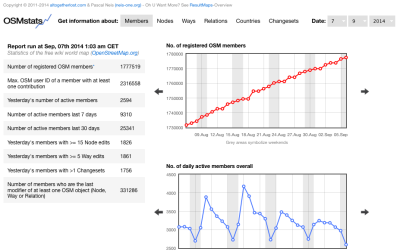 Additionally, the graphs for the country statistics, the active members and daily edits are also available in a "year"-overview. I hope you like the new extensions. A big thanks to both guys at altogetherlost.com who originally created OSMstats!
OSMstats is now available at: http://osmstats.neis-one.org
Feel free to check out my Resultmaps too which offer many helpful and funny OSM tools: http://resultmaps.neis-one.org
Notice: OSMstats was introduced in 2011, this means the webpage cannot provide statistics prior to that year. Also, the newly created Changeset-Tab has only data for July, 2014 and after.
Thanks to maɪˈæmɪ Dennis