The Return of "Unmapped Places in OSM EU"
by
Pascal Neis - Published: March 14th, 2011
My last blog post about "Unmapped Places in Europe" was read by more then 800 people. So I think it's time to redo the analyses a second time after three months. At the moment (March 11th, 2011) we have (according to the Geofabrik extract) 505091 places in OpenStreetmap Europe. They can be separated into the following place-types:
city=1055 (as of Dec. 5th, 2010 it was 1045 -> +1%)
town=16106 (as of Dec. 5th, 2010 it was 16032 -> +0.5%)
suburb=24913 (as of Dec. 5th, 2010 it was 23563 -> +6%)
village=278691 (as of Dec. 5th, 2010 it was 271147 -> +3%)
hamlet=184326 (as of Dec. 5th, 2010 it was 165804 -> +11%)
During my last and also during this analysis I *only* used those places that had a corresponding "village"-value. My tool works so far as followed:
Get only places with a village-tag.
Search nearby (ca. 600m distance) for a street with one of the following highway-types: residential, service, living_street, cycleway, footway, pedestrian, steps or platform.
If no street can be found, mark the place as "unmapped"!
Why did I only use villages? Well for the case of Germany it can be assumed that places with "higher" place-type tags such as "town" or "city" have already been mapped.
What are the "false=positives" and why is your village marked as unmapped? A village should usually have at least one of the roads mentioned above otherwise the place should be mapped as a hamlet. Would you agree with this?
The results showed that of the total 278691 villages, about 152337 (55%) (in Dec. 2010 it was 58%) who are located within "Europe", have not been detected or mapped yet. The following diagram shows the distribution of the numbers by country.
YAY, Germany!!!
The results can again be displayed as a GPX-overlay on a map which can be found here http://resultmaps.neis-one.org :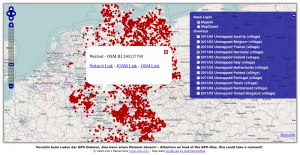 (Remarks for http://resultmaps.neis-one.org: Not each and every country is available as an overlay. Some countries such as France, Poland and Ukraine showed longer browser loading times to display the GPX-overlays!)
thx @ Dennis