Visualizing the #MissingMaps OpenStreetMap Contributions
by
Pascal Neis - Published: January 18th, 2015
The Missing Maps project is a collaboration between the Humanitarian OpenStreetMap Team (HOT) and various partner agencies, such as the American or the British Red Cross. One of their main objectives is "to map the most vulnerable places in the developing world, in order that international and local NGOs and individuals can use the maps and data to better respond to crises affecting the areas." You can find additional information about the Missing Maps Project on the OpenStreetMap (OSM) wiki and their project page.
A year ago, I created a webpage where you can filter OSM changesets by a specific comment. Sadly the webpage provides only a search for the latest seven days. However, the Missing Maps project asked me, if it's possible to "look over a longer time scale"? Here we go, based on a similar concept that I used for a webpage that I created for the HOT Ebola Response, I made a Map that displays all OSM changesets which have the hashtag #MissingMaps in the comment attribute and have been created since August 1st, 2014. It's online here and being updated on an hourly basis: http://resultmaps.neis-one.org/osm-missingmaps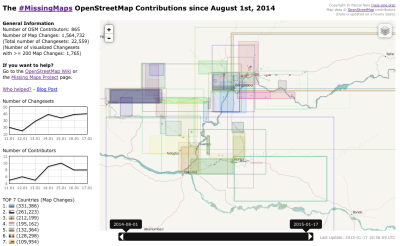 The webpage also contains overall information about the number of OSM Contributors and map changes. So far more than 800 contributors created more than 1.5 Mio map changes in almost 22,000 changesets. The volunteers contributed in more than 30 countries such as Congo-Kinshasa, Sudan, Central African Republic, Indonesia, Ethiopia, Chad, Zimbabwe or Rwanda. Additionally the number of created changesets and contributors of the last seven days are displayed in two charts at the left-hand side. The time slider at the bottom of the map can be used to show the changesets between two specific dates. Finally an overview page lists the names of all OSM contributors who used the hashtag #MissingMaps in their changesets comment. Same as last time: Thank you & keep up the good work!
Thanks to maɪˈæmɪ Dennis.