Introducing OpenStreetMap Contributor Activity Areas
by
Pascal Neis - Published: March 3rd, 2013
One month ago I wrote a blog post about a new website which allows you to see other OpenStreetMap contributors in your area. Overall the feedback was very positive, thank you very much for that! However, now it is time for a new extension to the "How did you contribute to OpenStreetMap?" (HDYC) webpage. As I mentioned in my last blog post, I used an algorithm (which is described in a paper that I wrote here) to compute and determine the activity area of a contributor based on her/his changeset centers. The following figure shows the new function that was added to the HDYC website visualizing the activity area of a contributor! Sorry Harry, as always you have to be our guinea pig, but you have a really awesome activity area 🙂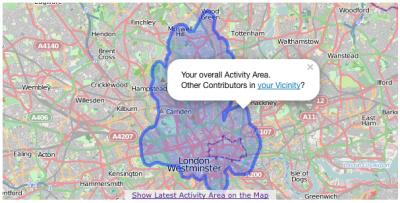 Next to the visualization of the overall activity area of a contributor, you can also click on a link at the bottom of the map to switch to the contributors' activity area of the past six months. Furthermore, all maps on HDYC now use the great Leaflet map library instead of Openlayers. Also, your activity areas' first and last Nodes have a direct link to the "Overview of OpenStreetMap Contributors aka Who's around me?" webpage. This provides an easy way to locate other contributors in your area. I have to mention that not every contributor has an activity area for the past six months. It highly depends on the activity of the contributor within this time frame!
One more thing: The aforementioned "Who's around me?" webpage has three new overlays. Two overlays show the contributors of the past six months with their first and last Nodes and one additional layer shows the activity areas also based on the past six months for each contributor. You can find all new layers in the upper right corner in the so-called "Layerswitcher".
My HDYC database is updated more or less on a daily basis. The information about your changeset activities is updated once a week (based on the weekly changeset dumps from here). "The Created Nodes per Country"-section can only be updated when a new full history dump is available, but you can always find the latest date in the section-label. The "Who's around me?" webpage uses almost the same database as HDYC, so the data up-to-dateness is similar.
Have fun with the new gadgets!
¡Muchas gracias maɪˈæmɪ Dennis