"My Way" to cross Dublin without a Pub
by
Pascal Neis - Published: June 15th, 2011
First of all, I really like the following blog post and the idea behind it: "Yes! It is possible to cross Dublin without passing a pub"
It shows the power of crowd sourced geodata (OpenStreetMap) and the skills of some individuals. In the following steps I am going to show you a different way to get to the same result.
The website OpenRouteService.org offers the same functionality to calculate a route. You can avoid certain areas by defining them (just simply draw them) on the map. However, your first step would be to "Search for Points of Interest (POI)" (PUBS), for example in Dublin within a distance of 10 km. The following picture shows the result: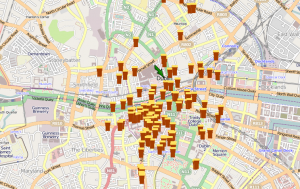 After that you can create several polygons around your pubs resulting in a map with several, "red" areas: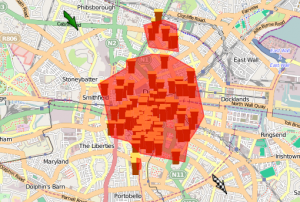 And finally you can calculate a route from almost any point in Dublin. The last image show such a route without crossing a red area or Pub: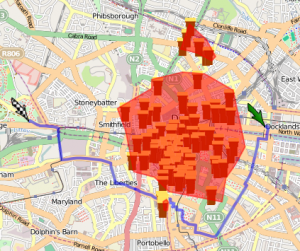 However, the original blog post is brilliant !
Or do you want it the opposite way: Search all pubs *along* my route?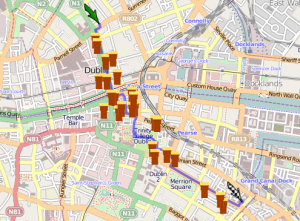 thx @ maɪˈæmɪ Dennis