The OpenStreetMap (OSM) project celebrated its 10th anniversary in August 2014. For almost 10 years it has increased its number of registered members. Even though some contributors stopped their contributions to the project, each day new mappers start collecting features for the free wiki world map (aka database).
In my last contributor report in 2013, the OSM project had a total of 1.3 Mio registered members. For July 2014 this number has increased to almost 1.6 Mio registered members. Similarly to last year, I checked how many contributors created one or more than ten changesets or performed more than 10 map edits. This information can be retrieved from the changeset dump.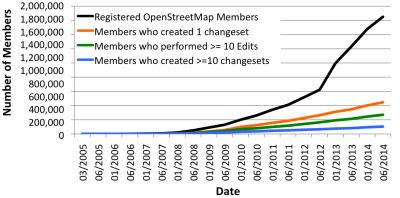 The figure above reveals a similar trend to the ones we saw in the past few years: Less than 1/3 of the 1.6 Mio registered members actively contribute to the project (450,000 members). Furthermore, only a small group of 16% (270,000) or respectively 6% (100,000) of the contributors performed more than 10 edits or 10 changesets.